Corporate Profile
Profile
Company Name
GL Sciences Inc.
Foundation
February 1, 1968
Stock Market Listing
Tokyo Stock Exchange Second Section (Code: 7705)
Head Office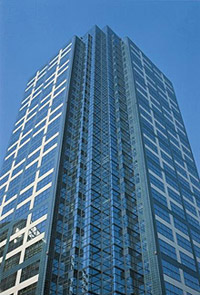 Shinjuku Square Tower 30F,
6-22-1 Nishi Shinjuku, Shinjuku-ku, Tokyo, 163-1130 Japan


Directors
President
Yoshihiro Nagami (Representative Director)
Director
Toshio Kurokawa
Director
Osamu Serizawa
Director
Yoshitaka Honda
Director
Audit and Supervisory Committee Member

Takahiro Saito
Kazuaki Kagohara
Yumiko Nagasawa

Capital
JPY 1,207,795,000
Number of Employees
452 (March 31, 2023)
Main Business
Gas/liquid chromatography equipment, pretreatment equipment, components, fillers, analytical columns, solid phase, peripheral equipment
Cells for spectrophotometers and quartz products
Semiconductor-related analyzers
Bio-equipment and components
All other related products
Company History
February,

1968

GASUKURO KOGYO INC.was first established for the manufacture and sales of chromatograph column packing material and consumable parts with a capital investment of 1,500,000 JPY.

April,

1975

Construction of the Musashi factory was completed in Iruma-City, Saitama and manufacture was moved from the Tokorozawa factory.

October,

1976

Established the, Gas Chro Yamagata Co., Ltd. subsidiary in Yamagata-City, Yamagata Prefecture.

April,

1986

Construction of a new factory in Fukushima (first stage construction) in Fukushima Industrial Park Fukushima City, Fukushima and part of the Musashi factory was moved there.

October,

1990

Changed the company name from gas Chromatography Industrial Co., Ltd. to GL Sciences Inc.

April,

1991

Changed the name of a subsidiary of Gas Chro Yamagata co., Ltd., to Techno Quartz Inc.

November,

1994

Moved to our new head office at 6-22-1 Nishi Shinjuku, Shinjuku-ku.

December,

1996

Acquired AI Technology Inc. which is a development-oriented manufacturer of non-contact IC cards and associated equipment.

February,

1998

Achieved ISO 9001 certification, the international standard for quality assurance and quality control at the Fukushima factory.

March,

2002

Acquired ATAS in the Netherlands as a subsidiary company, and changed the name to ATAS GL International B.V.

August,

2004

Achieved ISO 14001 certification, the international environmental standard.

February,

2005

Established GL Sciences, Inc. USA at California in the US as a subsidiary company.

March,

2005

Listed on the Tokyo Stock Exchange, Second Section.

September,

2006

Formalized a business agreement for the manufacture of analytical instruments and laboratory equipment with Shimadzu Corporation, agreed as a capital joint venture.

July,

2007

Established joint venture sales agreement for sample pretreatment and consumable products for use with analysis equipment between GL Sciences Laboratory Supplies Co., Ltd (Shanghai) and Shimadzu (Hong Kong) Ltd.

April,

2014

Company name of ATAS GL International B.V. has changed to GL Sciences B.V.

April,

2017

Acquired FLOM in Japan as a subsidiary company.

October,

2018

Established GL SCIENCES (SHANGHAI) LIMITED for Chinese market at Shanghai, China

December,

2018

Constructed a new factory in Fukushima city next to current factory, for HPLC consumables.