Management Philosophy, Corporate Activity Guideline and President Message
GL Sciences Group Management Philosophy
A staff of a GL Sciences group makes "fundamental spirit of establishment and management philosophy" the base and aims at growth to an enterprise with the sociality truly.

Specifically, We do "A stockholder and a staff show the sociality sufficiently to society, and raise the existence value, and win prosperity of a staff individual and make maintenance of an enterprise and development be, and distribute the technology and the benefit obtained from there among society justly." with a basic idea and behave with the key word of an eternal slogan since establishment "Let's advance together on our only way to success!".

GL Sciences Group Corporate Activity Policy
The bottom of the next guideline behaves for a staff of a GL Sciences group.
1. Acquisition of Trust from a Customer
A consumer satisfaction, one, the product which thinks and always corresponds with customer's needs, development of service and production make as effort toward an offer, secure the safety and quality and get trust.
2. Respect of Fundamental Human Rights
Individual's human rights are respected, domestic and abroad, in spite of, discriminatory handling by a presence and behavior of the gender, the age, the nationality, the secure, a race, religion, a principle, the social status and an obstacle aren't performed at all.
3. Obeying of a Decree by Practice and Corporate Ethics of Ethical Behavior
We always behave with high sense of ethics and good sense, domestic and abroad, in spite of, We obey a decree, a prescriptive social norm, several regulations of a company and corporate ethics and violate these in no kind of cases.
4. Implementation of Just Sincere Dealings
We compete with other companies in the same trade for freedom soundly and trade with a supplier and a customer sincerely justly. We mark so that we may promote creation of an intellectual property right, protection and utilization as well as invade others' right. Altogether, personal information, strict protection of customer information and management are carried without exception.
5. Break with Antisocial Power
We take on an order of the citizen activity, the antisocial power to which a threat is given safely and a group with firm determination and carry a related insulation without exception.
6. Match to an Environmental Issue
A global environmental problem is caught with a problem of human commonness, and it's confronted with environment risk sincerely, and for formation of cyclic type society, behaves aggressively in independent way. High development of a product, production and offer of environmental suitability of a product are continued and promoted as the most important mission as well as the thing which promotes energy conservation aggressively in case of business activity execution.
7. Elucidation of Industrial Information
As well as a stockholder, I communicate with society widely, and it's aggressive and industrial information is elucidated justly.
President's Message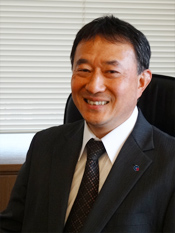 By demonstrating a corporate responsibility towards society we hope to show the true value of our company. The happiness and contribution of each member of the company is key to the continued success and advancement of our business. We believe that the profits gained from our technological achievements should be distributed fairly to the community, employees and shareholders alike, with our focus firmly set on the goal of developing the business activities of our company for the enrichment and benefits of society as a whole.

To achieve this fundamental goal, every year since the inception of this company we have shared our business plans with our employees. We believe that the awareness of these plans is essential in helping each individual employee build a strong trust in the company and one another and allows them to devote their unique talents and abilities to the purpose of achieving this one single goal.

Our aim is to grow our socially responsible business as a driving force for new technologies under the company slogan "Let's advance together on our only way to success!"