Interior Materials
Similar to measures against sick house syndrome in houses, VOC measures are being taken in car cabin. Measurements of indoor air have been carried out by automakers and other automobile manufacturers. Measurements are also carried out on automotive interior materials, which are the source of VOCs, mainly by parts manufacturers. The measurement method for automobile interior materials is called the sampling bag method, and the outline of the measurement method and related products are presented below.
Analysis Workflow of Common Automotive Interior Materials
Sampling
Insertion and Sealing of Specimens into Sampling Bag
Sampling Bag
We provide sampling bags of various sizes that can be used to sample automobile interior materials.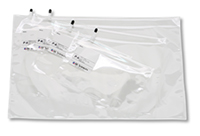 Aldehyde Sampling
InertSep Mini AERO Series Cartridges for Air Trapping
InertSep mini AERO series is an active sampler that can be used in conjunction with the Offensive Odor Control Law, the Air Pollution Control Law, and the EPA Law. It is best suited for the analysis of aldehydes and ketones contained in ambient air and emissions from automobile interior materials.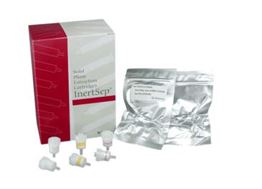 VOC Sampling
Sampling Tubing AERO TD Tube Series for Thermal Desorption
AERO TD Tube is a heat-desorption sampling tube for low concentrations of various organic compounds from the atmosphere and a lineup of sampling tubes filled with a variety of adsorbents and porous polymers.
Pretreatment
Elute with Solvent
GL-SPE Elution Manifold 20 (for Mini AERO DNPH Only)
The DNPH cartridges after aldehyde sampling can be eluted efficiently up to 20 samples by spontaneous dropping with flow rate controlled (about 1 mL/min).

Calibration Curve Preparation Tool/Flow Controller
A standard solution or a standard gas can be added to a sample tube connected to a flow controller and a collection tube connected to a calibration curve tool using a microsyringe while flowing inert gas through the sample tube.
Analysis
GC/MS
VOC Analysis Column :InertCap 1MS
InertCap 1 MS is a nonpolar column chemically bonded to 100 % dimethylpolysiloxane. The sample elutes essentially in the order of low boiling point. It was designed as a column for GC/MS, and realized the world's highest level of inactivity and low bleed.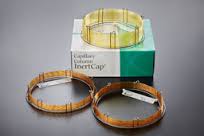 Sample of Mixed Volatile Organic Compounds (VOCs) for Study Automobile Interior Materials
This mixed sample is useful for measuring volatile organic compounds (VOCs) emitted from automobile interior materials and parts, and is used for calibration curve construction of heat desorption method and recovery test of sampling bag.