Proteomics Related Products
Peptide Desalting and Enrichment Tip GL-Tip SDB・GL-Tip GC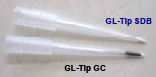 Phosphopeptides isolated using TiO2-based medias are typically desalted prior to analysis by LC-MS/MS, typically using a C18 (hydrophobic) micropipette tip. GL-Tip SDB are more hydrophobic than C18 medias and allow retention of phosphopeptides with high yield, allowing more accurate analysis of phosphopeptides species present in the sample. GL-Tip GC retain many more hydrophilic phosphopeptides than does C18; by using a combination of GL-Tip SDB and GC, almost all peptide samples can be desalted without sample losses due to lack of retention. Another highlight of this product is, the operation is very easy-to-use. Phosphopeptide-enriched samples are easily loaded, washed, and eluted using the same centrifuge-based technique used with Phos-TiO spin tips.
Features
High retentivity
High recovery
Easy to use with centrifuge
Specifications
| | | |
| --- | --- | --- |
| Description | GL-Tip SDB | GL-Tip GC |
| Sample | Try(PO3H2)-Angiotensin II | Gly-Gly-Tyr-Arg |
| Tip Volume | 200 µL | 1 mg/200 µL |
| Sample Loading Capacity | 60 µg | 30 µg |
Note) Maximum sample loading amount is depending on matrix.