InertCap Special Columns
InertCap CHIRAMIX
When analyzing enantiomers, it is basic to use several types of columns depending on the sample matrix. InertCap CHIRAMIX has an Optimized performance for separation of enantiomers coated with a mixture of cyclodextrin derivatives. Compared to the other commercially available columns which are coated with single cyclodextrin, InertCap CHIRAMIX can effectively separates a variety of enantiomers in a short time as the 1st choice column. To expedite the analysis, it is important to divide the enantiomers as much as possible in the first analytical column. InertCap CHIRAMIX can divide a wide range of enantiomers and is the best "first choice" column.
Note) InertCap CHIRAMIX was jointly developed with T. HASEGAWA CO., LTD.
Note) CHIRAMIX is a brand name of T. HASEGAWA CO., LTD.
Features
Designed for excellent performance in separating enantiomers
2 or more cyclodextrin derivatives are used in the liquid phase
Separating the targeted sample with a sharp peak
GL Sciences' original, No equivalent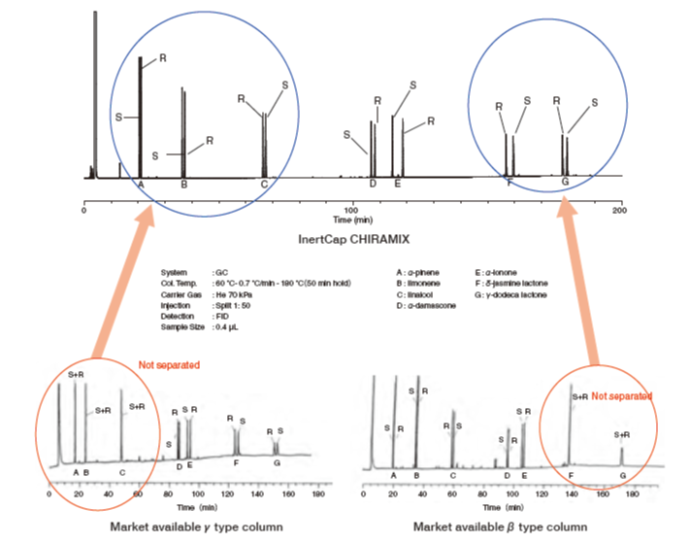 | I.D. | Length | Film Thickness | Max. Temperature | Qty. | Cat.No. |
| --- | --- | --- | --- | --- | --- |
| 0.25mm | 30m | 0.25µm | iso.180℃-prog.200℃ | 1pc | 1010-69142 |
Note) 5 inch cage is available on request.