IDEX Accessories
UHPLC Connections system MarvelX
Piping system with fitting and tubing set. Two types of tubing materials are available: stainless steel and PEEK-Lined StanlessSteel (PLS). The tubing of the PLS kit is made of PEEK, covered with stainless steel on the outside, and can be used under high-pressure conditions. Special fittings are set for manual tightening to facilitate pipe connections in the UHPLC. The specially designed tip section also realizes a zero-dead volume.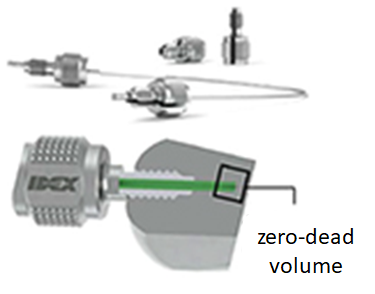 Specifications
Operating Pressure
Normal Pressure: 130 MPa (1300 bar)
Max. operating pressure : PEEK-Lined 160 MPa (1600 bar),
Stainless Steel 200 MPa (2000 bar)
Installation
Finger-tight, 1/8 - 1/4 of a turn (45 º angle) after initial resistance
Tubing
1/32 inch O.D. flexible 316 Stainless Steel with 1/16 inch O.D. rigid tube ends
Fitting
10-32 threaded, removable 316 Stainless Steel
Wetted Material
PEEK-Linked versions: PEEK
Stainless Steel versions: PEEK and 316 Stainless Steel
Max. Operating Temperature
120 ºC
Note) The performance specifications described above apply only when water is used at the maximum temperature of 120 °C with appropriate connections to the appropriate ports and under appropriate conditions. Different pressure tolerance thresholds may be used under different conditions.
| Description | 品番 | チューブI.D. | チューブLength | 交換用チューブ品番 | Qty. | Cat.No. |
| --- | --- | --- | --- | --- | --- | --- |
| PEEK-Lined Stainless Steel Kit | UPFP-6025150 | 25µm (0.001") | 150mm(5.9") | UPFP-6025150T | 1pc | 6010-73701 |
| PEEK-Lined Stainless Steel Kit | UPFP-6025350 | 25µm (0.001") | 350mm(13.8") | UPFP-6025350T | 1pc | 6010-73702 |
| PEEK-Lined Stainless Steel Kit | UPFP-6100150 | 100µm(0.004") | 150mm(5.9") | UPFP-6100150T | 1pc | 6010-73711 |
| PEEK-Lined Stainless Steel Kit | UPFP-6100350 | 100µm(0.004") | 350mm(13.8") | UPFP-6100350T | 1pc | 6010-73712 |
| Stainless Steel Kit | UPFS-6125150 | 125µm (0.005") | 150mm(5.9") | UPFS-6125150T | 1pc | 6010-73721 |
| Stainless Steel Kit | UPFS-6125350 | 125µm (0.005") | 350mm(13.8") | UPFS-6125350T | 1pc | 6010-73722 |
| Stainless Steel Kit | UPFS-6254150 | 254µm (0.010") | 150mm(5.9") | UPFS-6254150T | 1pc | 6010-73731 |
| Stainless Steel Kit | UPFS-6254350 | 254µm (0.010") | 350mm(13.8") | UPFS-6254350T | 1pc | 6010-73732 |
Replacement tubing is available on request.
Note) other sizes is available on request (tube length: 70 mm, 250 mm, 500 mm, 600 mm, etc.)