HILIC Columns
InertSustain Amide Analytical Columns
InertSustain Amide is a HILIC column that enhances the retention of extremely polar compounds.
This column offers the strongest retentivity among the marketed amide columns through bonding of carbamoyl groups. It achieves superior stability and durability even for water-rich mobile phases.
HILIC phases are particularly useful for compounds that are weakly retained by reversed phase columns such as Melamine and Cyanuric Acid.
As shown below, InertSustain Amide provides stronger retention for such analytes compared to other HILIC brand columns.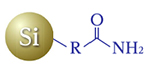 | | |
| --- | --- |
| Base Material | : High Purity ES Silica Gel |
| Particle Size | : 3 µm, 5 µm |
| Surface Area | : 350 m2/g |
| Pore Size | : 100 Å (10 nm) |
| Pore Volume | : 0.85 mL/g |
| Functional Group | : Carbamoyl |
| End-capping | : None |
| Carbon Loading | : 15.0 % |
| USP Code | : L68 |
| pH Range | : 2 - 8.5 |
InertSustain Amide Analytical Columns
| Particle Size | I.D. | Length | SDS | Qty. | Cat.No. |
| --- | --- | --- | --- | --- | --- |
| 1.9µm | 2.1mm | 30mm | | 1pc | 5020-88815 |
| 1.9µm | 2.1mm | 50mm | | 1pc | 5020-88816 |
| 1.9µm | 2.1mm | 75mm | | 1pc | 5020-88817 |
| 1.9µm | 2.1mm | 100mm | | 1pc | 5020-88818 |
| 1.9µm | 2.1mm | 150mm | | 1pc | 5020-88819 |
| 1.9µm | 3.0mm | 30mm | | 1pc | 5020-88820 |
| 1.9µm | 3.0mm | 50mm | | 1pc | 5020-88821 |
| 1.9µm | 3.0mm | 75mm | | 1pc | 5020-88822 |
| 1.9µm | 3.0mm | 100mm | | 1pc | 5020-88823 |
| 1.9µm | 3.0mm | 150mm | | 1pc | 5020-88824 |
| 3µm | 1.0mm | 30mm | ENG | 1pc | 5020-88766 |
| 3µm | 1.0mm | 50mm | ENG | 1pc | 5020-88767 |
| 3µm | 1.0mm | 75mm | ENG | 1pc | 5020-88768 |
| 3µm | 1.0mm | 100mm | ENG | 1pc | 5020-88769 |
| 3µm | 1.0mm | 150mm | ENG | 1pc | 5020-88770 |
| 3µm | 1.0mm | 250mm | ENG | 1pc | 5020-88771 |
| 3µm | 1.5mm | 30mm | ENG | 1pc | 5020-88772 |
| 3µm | 1.5mm | 50mm | ENG | 1pc | 5020-88773 |
| 3µm | 1.5mm | 75mm | ENG | 1pc | 5020-88774 |
| 3µm | 1.5mm | 100mm | ENG | 1pc | 5020-88775 |
| 3µm | 1.5mm | 150mm | ENG | 1pc | 5020-88776 |
| 3µm | 1.5mm | 250mm | ENG | 1pc | 5020-88777 |
| 3µm | 2.1mm | 30mm | ENG | 1pc | 5020-88726 |
| 3µm | 2.1mm | 50mm | ENG | 1pc | 5020-88727 |
| 3µm | 2.1mm | 75mm | ENG | 1pc | 5020-88728 |
| 3µm | 2.1mm | 100mm | ENG | 1pc | 5020-88729 |
| 3µm | 2.1mm | 125mm | ENG | 1pc | 5020-88730 |
| 3µm | 2.1mm | 150mm | ENG | 1pc | 5020-88731 |
| 3µm | 2.1mm | 250mm | ENG | 1pc | 5020-88732 |
| 3µm | 3.0mm | 30mm | ENG | 1pc | 5020-88734 |
| 3µm | 3.0mm | 50mm | ENG | 1pc | 5020-88735 |
| 3µm | 3.0mm | 75mm | ENG | 1pc | 5020-88736 |
| 3µm | 3.0mm | 100mm | ENG | 1pc | 5020-88737 |
| 3µm | 3.0mm | 125mm | ENG | 1pc | 5020-88738 |
| 3µm | 3.0mm | 150mm | ENG | 1pc | 5020-88739 |
| 3µm | 3.0mm | 250mm | ENG | 1pc | 5020-88740 |
| 3µm | 4.0mm | 30mm | ENG | 1pc | 5020-88742 |
| 3µm | 4.0mm | 50mm | ENG | 1pc | 5020-88743 |
| 3µm | 4.0mm | 75mm | ENG | 1pc | 5020-88744 |
| 3µm | 4.0mm | 100mm | ENG | 1pc | 5020-88745 |
| 3µm | 4.0mm | 125mm | ENG | 1pc | 5020-88746 |
| 3µm | 4.0mm | 150mm | ENG | 1pc | 5020-88747 |
| 3µm | 4.0mm | 250mm | ENG | 1pc | 5020-88748 |
| 3µm | 4.6mm | 30mm | ENG | 1pc | 5020-88750 |
| 3µm | 4.6mm | 50mm | ENG | 1pc | 5020-88751 |
| 3µm | 4.6mm | 75mm | ENG | 1pc | 5020-88752 |
| 3µm | 4.6mm | 100mm | ENG | 1pc | 5020-88753 |
| 3µm | 4.6mm | 125mm | ENG | 1pc | 5020-88754 |
| 3µm | 4.6mm | 150mm | ENG | 1pc | 5020-88755 |
| 3µm | 4.6mm | 250mm | ENG | 1pc | 5020-88756 |
| 5µm | 1.0mm | 30mm | ENG | 1pc | 5020-88642 |
| 5µm | 1.0mm | 50mm | ENG | 1pc | 5020-88643 |
| 5µm | 1.0mm | 75mm | ENG | 1pc | 5020-88644 |
| 5µm | 1.0mm | 100mm | ENG | 1pc | 5020-88645 |
| 5µm | 1.0mm | 150mm | ENG | 1pc | 5020-88646 |
| 5µm | 1.0mm | 250mm | ENG | 1pc | 5020-88647 |
| 5µm | 1.5mm | 30mm | ENG | 1pc | 5020-88648 |
| 5µm | 1.5mm | 50mm | ENG | 1pc | 5020-88649 |
| 5µm | 1.5mm | 75mm | ENG | 1pc | 5020-88650 |
| 5µm | 1.5mm | 100mm | ENG | 1pc | 5020-88651 |
| 5µm | 1.5mm | 150mm | ENG | 1pc | 5020-88652 |
| 5µm | 1.5mm | 250mm | ENG | 1pc | 5020-88653 |
| 5µm | 2.1mm | 30mm | ENG | 1pc | 5020-88602 |
| 5µm | 2.1mm | 50mm | ENG | 1pc | 5020-88603 |
| 5µm | 2.1mm | 75mm | ENG | 1pc | 5020-88604 |
| 5µm | 2.1mm | 100mm | ENG | 1pc | 5020-88605 |
| 5µm | 2.1mm | 125mm | ENG | 1pc | 5020-88606 |
| 5µm | 2.1mm | 150mm | ENG | 1pc | 5020-88607 |
| 5µm | 2.1mm | 250mm | ENG | 1pc | 5020-88608 |
| 5µm | 3.0mm | 30mm | ENG | 1pc | 5020-88610 |
| 5µm | 3.0mm | 50mm | ENG | 1pc | 5020-88611 |
| 5µm | 3.0mm | 75mm | ENG | 1pc | 5020-88612 |
| 5µm | 3.0mm | 100mm | ENG | 1pc | 5020-88613 |
| 5µm | 3.0mm | 125mm | ENG | 1pc | 5020-88614 |
| 5µm | 3.0mm | 150mm | ENG | 1pc | 5020-88615 |
| 5µm | 3.0mm | 250mm | ENG | 1pc | 5020-88616 |
| 5µm | 4.0mm | 30mm | ENG | 1pc | 5020-88618 |
| 5µm | 4.0mm | 50mm | ENG | 1pc | 5020-88619 |
| 5µm | 4.0mm | 75mm | ENG | 1pc | 5020-88620 |
| 5µm | 4.0mm | 100mm | ENG | 1pc | 5020-88621 |
| 5µm | 4.0mm | 125mm | ENG | 1pc | 5020-88622 |
| 5µm | 4.0mm | 150mm | ENG | 1pc | 5020-88623 |
| 5µm | 4.0mm | 250mm | ENG | 1pc | 5020-88624 |
| 5µm | 4.6mm | 30mm | ENG | 1pc | 5020-88626 |
| 5µm | 4.6mm | 50mm | ENG | 1pc | 5020-88627 |
| 5µm | 4.6mm | 75mm | ENG | 1pc | 5020-88628 |
| 5µm | 4.6mm | 100mm | ENG | 1pc | 5020-88629 |
| 5µm | 4.6mm | 125mm | ENG | 1pc | 5020-88630 |
| 5µm | 4.6mm | 150mm | ENG | 1pc | 5020-88631 |
| 5µm | 4.6mm | 250mm | ENG | 1pc | 5020-88632 |